By: Kyle Balzer
Colours and details so vivid, they practically jump off the page!
Believed to be a first for any Metro Vancouver library, children are set to use virtual reality goggles in efforts to expand educational opportunities.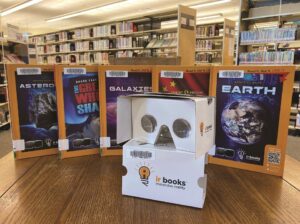 A notable phrase among bookworms and readers alike, but the Coquitlam Public Library (CPL) is making it a reality for its patrons and visitors in welcoming a series of immersive children's books complete with virtual goggles for an educational and unique experience.
Living up to escaping from the real world — another popular saying — the CPL has brought in interactive reads about Earth, the universe, great white sharks and others.
The organization adds it's believed to be the first library in all of the Tri-Cities and Metro Vancouver to provide such technology for the public.
"IR [immersive reality] Books and goggles create a unique educational experience and help make learning more fun," said spokesperson Rachel Burke in a news release.
CPL explains the experience simply combines virtual reality concepts (ie. goggles) with traditional books, alongside an IR Books app to bring a topic to 360-degree life.
The IR books and headsets can be found at the CPL's City Centre and Poirier branches, as well as through its Library Link mobile services.
For more information, you can visit the Coquitlam Public Library's website.
Article found here: Tricity News.