"The research is out. Kids are behind in reading acquisition," says Sarah Hartley, educational sales manager at Orca Book Publishers. "I've been to numerous conferences—every teacher is telling me how behind their students are."
Supporting the anecdotal evidence, the results from the Nation's Report Card (the NEAP 2022 Reading Assessments) revealed that only one-third of American fourth graders were performing at or above the NEAP Proficient level. Eighth graders are also struggling, with 30 percent of students performing below NEAP Basic level.
Publishers are hearing increased demands for books to address reading deficits at every grade level. "Twice a year, we interview teachers and librarians across the country. There's a ton of demand for books that are easier to read," says Jon Fishman, associate editorial director, Lerner Publishing Group.
Publishers are responding to this need with more titles, more imprints, and more products for reluctant readers than ever before. Lerner Publishing Group recently launched a nonfiction hi-lo brand, UpDog Books, while Orca Book Publishers has also expanded the company's roster of hi-lo lines with the addition of Orca Anchor. And technology has been harnessed by Playaway and Library Ideas's VOX Books to make content more accessible to all readers.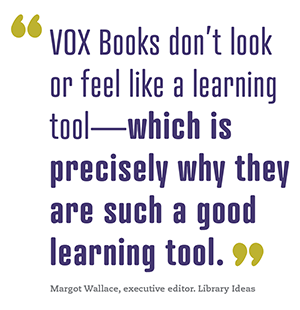 But publishers are keenly aware that their books have to work harder than ever before—with more exciting storylines, more eye-catching and mature design, and popular topics that entice reluctant readers, like mysteries, horror, paranormal phenomena, dangerous jobs, cars and planes, and pre-historic creatures. "If the stories are good, struggling readers will keep coming back," says Hartley.
Read on for a plethora of new books and products that incorporate both learning and fun!

Library Ideas
A VOX Book looks just like a regular picture book—until a reader opens the cover, presses the button, and hears a voice. The permanently affixed VOX Reader transforms that print book into an all-in-one read-long. "VOX Books empower reluctant readers by building confidence and developing a love of reading. The addition of audio brings an extra level of energy and enthusiasm," says Executive Editor Margot Wallace. "VOX Books don't look or feel like a learning tool—which is precisely why they are such a good learning tool."
Acquired by Library Ideas about seven years ago, VOX Books was always intended to be a learning tool for emerging and reluctant readers. To judge by the research, the line is achieving this goal. Widener University's Dana M. Reisboard, PhD, recently published a white paper entitled "Inspiring Early Readers: New Technology and Formats Show Efficacy." Dr. Reisboard concluded that VOX Publishing products have important features that lead to advanced literacy development in children. "Her findings matched ours. These books really work," notes Wallace.
Two young birds mistake a polka-dot ball for an egg in Duck & Goose, written and illustrated by Tad Hills, narrated by Matt Braver, June 2023, ISBN 9798885191845 (originally published by Penguin Random House). "It's hilarious to see them bicker about how best to care for the egg," says Wallace. "It's all about friendship, humor, and cooperation." This New York Timesbestseller for ages 4–8 is also now an animated series available to stream on AppleTV.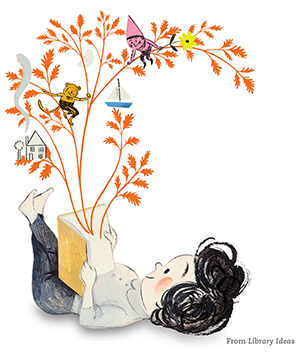 World-renowne poet and Coretta Scott King Honor winner Nikki Giovanni celebrates imagination and exploration in A Library, illustrated by Erin K. Robinson, narrated by Nikki Giovanni, June 2023, ISBN 9798885191883 (originally published by HarperCollins). Written in verse, this picture book for readers ages 4–8 emphasizes the importance of libraries to Black and Brown children. "It's a love letter to libraries," says Wallace. "Once you can enjoy books, the whole world is at your fingertips."
Big Truck Little Island written and illustrated by Chris Van Dusen, June 2023, ISBN 9798885192927 (originally published by Candlewick), was inspired by an actual traffic mishap in Vinalhaven, Maine. On a small island, ingenious kids figured out how to get to ballet class when a truck blocked the way. "This story shows the power of community resourcefulness and kindness," says Wallace. "The clever rhyming wordplay is absolutely perfect for a read-aloud."
Young Katherena feels out of place in her new town until she meets the elderly artist who lives next door. Birdsong, written and illustrated by Julie Flett, narrated by Alaska Jackson, June 2023, ISBN 9798885190251 (originally published by Greystone), highlights the importance of intergenerational relationships, spending time in nature, and sharing your passions with a friend. This book for ages 4–8 was an American Indian Youth Literature Honor title and won a TD Canadian Children's Literature Award.
A Story Is to Share: How Ruth Krauss Found Another Way to Tell a Tale by Carter Higgins, illustrated by Isabelle Arsenault, June 2023, ISBN 9798885192545(originally published by Abrams), is a nonfiction picture book biography of legendary children's book author Ruth Krauss. "Ruth was so successful at reaching children because she respected them," explains Wallace. "She understood children's hearts and minds—and never lost her own sense of wonder."
---